By Kurt Kaeser on 2016-09-13 in News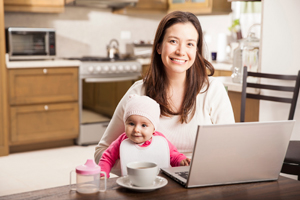 Why are moms choosing to start a home-based business through Kaeser & Blair?
Many moms want the freedom to do what they want and still provide for their family. The simplicity and freedom to make extra money from home is what makes Kaeser & Blair entrepreneurs different from other at home job opportunities.
Nicole Campbell chose to make extra money from home by becoming a Kaeser & Blair Promotional Business Owner, so she could be a stay at home mom, go back to school, and provide for her family. "The money is great money and it's hassle free," says Nicole Campbell. "Everyone orders promotional products. Really, everywhere you go," she says. "The opportunity to find clients who will buy promotional products is very high, which is what makes Kaeser & Blair the greatest profit potential in the industry."
Many moms, like Nicole Campbell, make extra money from home through Kaeser & Blair by owning their own business and creating their own hours. Part-time business owners can earn up to $20,000, and full-time business owners have the ability to earn up to $180,000. It is simple to make extra money from home. With Kaeser & Blair you have full support from the K&B team to keep your company running successfully.
Kaeser & Blair is different from other home business opportunities because there is no party hosting or inventory to maintain. As a business owner, you simply seek out the clients, place the orders, and Kaeser & Blair does the rest.
K&B offers two different business owner packages. The Standard Business Owner Package is only $85 and includes everything needed to get a promotional products business off to a successful start. The Premium Business Owner Package ($335) includes everything contained in the Standard Business Owner Package, with additional resources to increase the success of the new business, such as business cards, a personalized website, and 100 Javelina Tropical Pens with your custom printed message.
The Kaeser & Blair Business Owner Program offers moms the opportunity to be a part of this booming promotional product industry to make extra money from home. Get started now!