By Kurt Kaeser on 2016-11-29 in News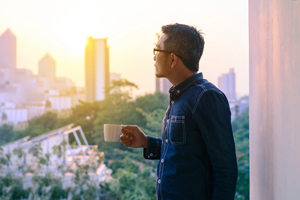 The Digital Age has opened the door to many possibilities when it comes to direct selling companies. Now more than ever it seems like there are direct selling companies for everything—jewelry, cosmetics, candles, health & nutrition, etc.
With so many options, it is best to ask yourself the three questions below before choosing one of the many direct selling companies out there. Once you have, we're confident you'll see why Kaeser & Blair promotional products will take you to new financial heights.
What is my income potential?
Obviously, everyone wants to make the most money as fast as they possibly can. That's why it is so important to consider how quickly and how much you get paid when looking at direct selling companies. At Kaeser & Blair, we pay our business owners within 24 hours of a placed order by ACH wire transfer. We also have generous earning potential of up to 65% of gross margins—one of the highest in the promotional products industry. Part-time Kaeser & Blair business owners make up to $20,000 annually, and full-time business owners make as much as $185,000. Compare us to other direct selling companies and you'll see we have some of the best profits.
How desirable are my products?
Virtually every business advertises with promotional products, because they are so effective. Our direct selling companies sell a wide array of promotional products ranging from clothing to electronics & computer related products in an industry that made $21.5 billion in sales last year. See, promotional products are an item desired by everyone from your friends with businesses to local non-profits. Kaeser & Blair is one of the best direct selling companies because we sell desired products and every business is a potential customer.
Which direct selling companies are reliable?
When choosing between direct selling companies avoid companies with big franchise fees or companies that require you to buy large amounts of inventory. At Kaeser & Blair, there are no big franchise fees. The $85 we ask you to spend on our Standard Business Owner Package has everything you need for you to be successful, plus we refund you after your first $1500 in sales. We also don't require you to buy or maintain any inventory.
It's also important when choosing between direct selling companies that you avoid the ones that have only been around for a short amount of time. At Kaeser & Blair, we have the strongest reputation in the industry with a stable history since 1894. Also, our Support Team is unparalleled—making us one of the most reliable direct selling companies out there.
So have you decided? With generous income potential, desirable products, and a strong reputation, how could you not choose Kaeser & Blair? Request your free trial launch package today.