By Kurt Kaeser on 2017-08-15 in News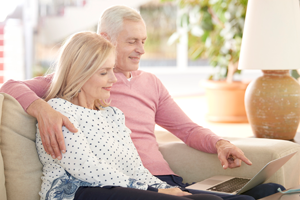 Save For Retirement. Travel the World. Make Money From Home.
Have you and your spouse reached the age where all your children are moved out and you have the home to yourselves again? Being an empty-nester can be a liberating experience for a lot of reasons - less laundry, no more sharing the television, etc. Wouldn't it be nice if you could also feel that freedom in your finances too?
At Kaeser & Blair Promotional Products, we offer a business opportunity that allows you to make money from home selling promotional products. And since Kaeser & Blair doesn't ask you to buy or maintain any inventory, you don't have to worry about converting any old bedrooms into a storage space or office. In fact, with Kaeser & Blair, you can sell promotional products from the comfort of your home and with just a few clicks of a button.
Your duty as a business owner would be to simply make the sale and submit the order to Kaeser & Blair. We'll pay you in advance through direct deposit and then take care of production, shipping, billing, and payment collection. It truly is a great way to make money from home, but why would you want to sell promotional products?
Promotional products are used to advertise for virtually every business because they are so effective. We'd even venture to say you've already been given many promotional products in your day-to-day life. Maybe it was a water bottle from a local gym or pens from some corporate entity. Either way, you're likely to keep the promotional products because they are useful and companies know you'll appreciate the gift. In fact, 72% of tradeshow attendees who receive a promotional product remember the name of the company, and most people keep their items more than one year. So you'd start selling promotional products to make money from home AND take advantage of the massive opportunity helping numerous companies promote themselves.
With this great opportunity also comes great earning potential. Full-time Kaeser & Blair business owners can make anywhere between $60,000 to $185,000 annually. Even part-time business owners can make between $7,000 to $20,000. Since you are your own boss, how much you earn is dependent on how much and how hard you work. Create a schedule to make money from home that sets you up for success and this business opportunity could help you save for retirement. Additionally, the flexible business model means selling promotional products will never get in the way of traveling.
Interested? For a minimal start-up cost of $85, we'll send you a Standard Business Owner Package containing everything you need to make money from home. We even include immediate access to our online training assets to help you get started. Once you hit your first $1,500 in sales, we'll refund the $85 back to you.
You can also request a FREE TRIAL LAUNCH PACKAGE if you're still not sure about this opportunity to make money from home. We invite you to try out Kaeser & Blair, learn first hand why this is a great opportunity.
Request the FREE TRIAL LAUNCH PACKAGE by clicking here. If you want to skip the trial, then just click here!