By Kurt Kaeser on 2017-11-14 in News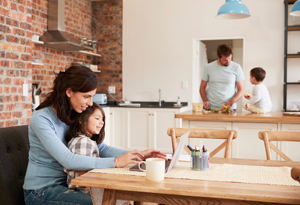 3 Signs Of The Best Home Based Business
Working from home is sometimes a necessity when you have children. However, that need doesn't really help you find the best home based business.
These days there are so many opportunities claiming to be the "best home based business" that it can be overwhelming. How are you supposed to know which opportunity will really be a pragmatic way to increase your income and which one will be a pain to deal with?
To help you from becoming overwhelmed, Kaeser & Blair has broken down the 3 biggest things you should look for when looking for the best home based business.
The Best Home Based Business Lets You Be Your Own Boss

It might be different than what you're used to but being your own boss is the first step to having a successful business from home. This is because being your own boss comes with a lot of freedom.

The best home based business would put you in control of how the business is run and how much you work. As your own boss, you would have that control. Make sure when looking at opportunities that they offer this type of flexibility - it's one of the best ways to make extra money while still maintaining your comfortable lifestyle.


The Best Home Based Business Has Great Earning Potential

If you are going to start a business from home, then you want to make sure it is worth it. Consider business opportunities that are built around a solid business model that actually sees results.

Be sure to ask yourself the following:
What does the company expect you to sell? How much will make after each sale? Are there any overhead costs?

These are all questions you should ask yourself to determine if you will actually be able to make any money.


The Best Home Based Business Is Easy To Star

The final thing you should be on the lookout for when trying to find the best home based business is one that is easy to start. Don't choose a home business that requires a large upfront investment of your time or money. Instead, find one that you can start almost immediately and at a minimal startup cost.

Why stress out about getting started when there are simpler options available?
So now that you know the 3 Signs of the Best Home Based Business Opportunity, you should be able to confidently look for the best home based business for you. And guess what? You won't have to look much further thanks to Kaeser & Blair's Business Owner Program.
At Kaeser & Blair, we offer an opportunity that let's people become their own boss as they sell promotional products from home. You could enjoy setting your own schedule while earning a profit potential of up to 65% with each sale you make. And best of all? It only costs $85 to receive our starter kit.
When looking for the best home based business, all signs point to Kaeser & Blair Promotional Products. Try it out for free by requesting our FREE TRIAL LAUNCH PACKAGE today.