By Kurt Kaeser on 2017-11-28 in News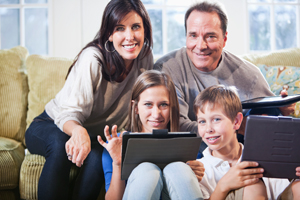 Strengthen Your Family's Financial Security with Legitimate Work At Home Jobs
As children get older, they introduce a new hustle to life. It is an incredible experience to watch them become adults but you are left wondering how you can afford the SUV as well their extracurricular activities. Wouldn't it be great if you could just slow down a bit and make money from home? Luckily, there are legitimate work at home jobs that allow you to do just that.
So how are you supposed to know what kind of opportunities are legitimate work at home jobs? Well, just look at Kaeser & Blair Promotional Products as an example. Kaeser & Blair is one of the best legitimate work at home jobs available and here's why:
Kaeser & Blair Puts People In Control
When people join Kaeser & Blair they are instantly dubbed a promotional products business owner. Their main duty is to sell promotional products and since they aren't required to sign any binding contracts or make any restrictive agreements, they can do it however they want.
The freedom to run a business gives everyone the responsibility of being their own boss. They set their own schedule and make their own goals. Kaeser & Blair Business Owners are capable of working the hours that work the best for them and at a pace they are comfortable with. All legitimate work at home jobs should lend this type of flexibility.
Kaeser & Blair Pays Well & Quickly
Kaeser & Blair Business Owners earn a percentage of the total amount from each order submitted. Starting out, they'll make a commission of 50% of the gross profit of the order total. Once a business owner makes $50,000 in a year, they'll be able to bump their commission up as high as 65% of gross profit on each order.
It's a great earning potential and it's paid almost instantly after each order submission. In fact, once Kaeser & Blair receives an order they'll direct deposit earnings within 24-48 hours. When looking at legitimate work at home jobs, make sure they offer this great of opportunity in terms of profit potential. Make sure you can make money as quickly as you could with Kaeser & Blair.
Kaeser & Blair Has A Great Reputation
Stay away from opportunities that call themselves legitimate work at home jobs but have only been around for a couple of years. And definitely stay away from the opportunities that require a high startup cost. These could be potential scams. Instead, choose a company that has a low start-up cost and has been in the industry for many years.
Let's use Kaeser & Blair as model one last time – they have had a stable history since 1894 with more than a century of reliability and integrity. Kaeser & Blair is also known as the industry leader with the largest group of independent businesses and an A+ Better Business Bureau accredited listing.
Plus, they have a one-time, minimal startup cost of $85 . Not a bad price for a starter kit that has everything needed to successfully sell promotional products. Especially, when it is refunded to business owners after their first $1,500 in sales – a testament to how you can trust Kaeser & Blair.
So what do you think?
Do you think you can spot legitimate work at home jobs now? Try comparing them to Kaeser & Blair firsthand by requesting a FREE TRIAL LAUNCH package. We're confident you won't find a better opportunity than the Kaeser & Blair Business Owner Program.