By Kurt Kaeser on 2017-12-05 in News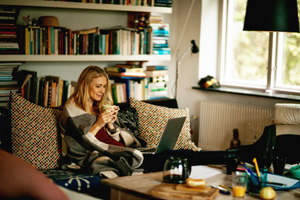 Cozy Up To The Idea Of Jobs Working From Home
Don't jobs working from home sound like the best thing since sliced bread? Think about it – not only can you decide to stay in your pajamas, but also, your morning commute can be from your bed to your couch. Could you imagine being that lucky?
Well, you don't have to – thanks to Kaeser & Blair Promotional Products, you can quickly join the people who have jobs working from home.
At Kaeser & Blair, you can join the Business Owner Program and reap the benefits of having your own promotional products business. As your own boss, you can choose when and where you work. Sell promotional products in the early morning from your home or in the afternoon at your favorite coffee shop. The point is there are no strict schedules or office spaces you need to deal with.
Flexibility is a huge benefit at Kaeser & Blair's jobs working from home. If you are someone who likes to travel then becoming a business owner could be in your best interest. Not only could you use this business opportunity as way to schedule trips whenever you want, you could also make a great deal of money when you choose to work.
Speaking of a great deal of money – the profit potential from Kaeser & Blair's jobs working from home is the highest in the promotional products industry. With average profits at 20% and average orders close to $785, you could quickly make good money with a few good sales. In fact, some of our business owners earn $100,000 or more a year. Can other jobs working from home say the same?
The opportunity we offer is truly a unique experience that also helps keep your career on track. All it takes to join one of our jobs working from home is the minimal startup cost of $85. Once you've paid that, we'll send you our Standard Business Owner Package which will help you get started. In it, you will find all of the essentials to running a business from home, including access to online training assets to get your prepared to sell promotional products. We even offer the chance to send the starter kit back within 30 days for a full refund if you decide you don't like working from home.
Does running your own business sound stressful? Don't worry – Kaeser & Blair's jobs working from home also have the best-in-industry support and resources to energize your entrepreneurial spirit. Why not try it out with no obligation by requesting our FREE TRIAL LAUNCH PACKAGE.
Try it out today! We are confident you won't find any other jobs working from home like you can at Kaeser & Blair.