By Kurt Kaeser on 2018-02-13 in News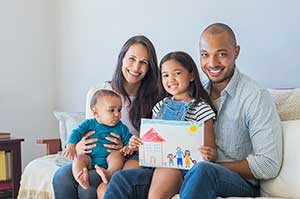 K&B's Part Time Work From Home Helps Build A Solid Foundation For Your Family
Part time work from home often sounds like the ideal job when there is a lot on your plate. When you have younger children and a spouse who works hard all day, nothing sounds better than getting out of bed and starting your workday at the dining room table. However, finding this type of part time work from home is much more of a challenge.
Luckily, Kaeser & Blair Promotional Products makes it simple to find part time work from home through their Business Owner Program. By signing up to become a Kaeser & Blair business owner and purchasing the Standard Business Owner Package for only $85, you can be your own boss and turn your home into an office.
Getting started really is as simple as ordering our Standard Business Owner Package. Once you've received that, you can review our online training assets and catalogs to quickly start selling promotional products from your home. You won't have to worry about adding the process of buying and storing products to your plate. Instead, during your part time work from home, you'll simply make the sale, place the order, and receive your profits upon order entry.
That's right – our profits are paid in advance via direct deposit upon order entry, which makes us quicker than anyone else in the industry. Plus, you'll have the potential to make great profits at Kaeser & Blair. In fact, with average profits at 20% of the sell price and average orders close to $785, you can quickly make money. Some of our part-time business owners make as much as $20,000 per year.
Obviously, you could take this part-time work from home and turn it into a full-time career. As your own boss, the amount you work is up to you, which also means the amount you earn is up to you. Full-time business owners who are dedicated to selling promotional products can make as much as $185,000 annually.
The point is Kaeser & Blair gives you the freedom to run the business however you want. The part time work from home is such a pragmatic way to increase your family's income because it doesn't get in the way of your personal life. You can still make your daughter's dance recitals and your son's peewee football games when you are a Kaeser & Blair business owner.
Are you interested in starting part time work from home? By joining Kaeser & Blair, you would be partnering with the name that the industry trusts the most. With a stable history since 1894, a generous profit potential, a flexible schedule, and a minimal startup cost, you really can't choose anyone better than Kaeser & Blair Promotional Products. Just click here to order your Standard Business Owner Package today. And remember - if you decide you don't like it, you can return the kit within 30 days for a full refund.
Still not sure? Request our FREE TRIAL LAUNCH PACKAGE today and compare us to other part time work from home opportunities. We're confident you'll find there is no one better!