By Kurt Kaeser on 2018-03-06 in News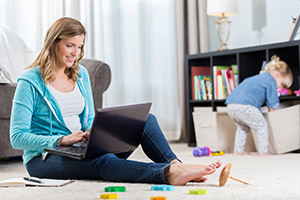 Kaeser & Blair offers the flexibility and freedom that many stay at home moms need
If you're a stay at home mom, you know all too well how difficult it can be to balance the ever-changing day to day responsibilities of family life. As a growing percentage of mothers find themselves employed full-time to support their families, this juggling act is becoming increasingly difficult. Fortunately, Kaeser & Blair offers a wide range of jobs for stay at home moms so you don't have to juggle.
You probably already know someone who has made the transition from stay at home mom into full time employment. This transition comes with a lot of change and uncertainty. You may have found yourself toying with the idea of full-time employment and struggling with all the unknowns that it brings. What will you do with the kids during the day? Can you afford daycare? Who will take care of the house? Will the dog be ok home alone all day?
Becoming a business owner at Kaeser & Blair offers freedom & flexibility that means you won't have to choose between work and family. We offer an opportunity to be your own boss so you never have to clock in or clock out – you can work as much or as little as you want right from home. This means you don't have to worry about the kids or the dog, making it one of the best work at home business opportunities for stay at home moms.
We specialize in promotional products, which recently hit $21.5 billion in sales and is only expected to continue growing, which provides a great opportunity for one of the most profitable jobs for stay at home moms. Our business owners average a 20% profit from their sales, and have an average order size of $785, which means you can expect great profits that make it easy for you to save up for that new SUV, or send the kids to that expensive school you and your husband have had your eye on.
Work-from-home jobs are increasingly common these days, but Kaeser & Blair offers unrivaled simplicity. Our Standard Business Owner Package is only $85, and includes everything you need to get started selling our promotional products, as well as all the training you'll need to succeed. Unlike other direct sales businesses, we handle everything on the back end so you don't have to worry about contacting suppliers or maintaining inventory. This means you can focus on selling and improving your family's financial well-being without sacrificing your freedom & flexibility.
So, if you're looking for profitable opportunities to work from the comfort of your own home, look no further. Start by requesting our no-obligation Free Trial Launch Package today! Or, if you want to get started right away, consider our risk-free Standard Business Owner Package. If you decide that selling promotional products isn't for you, simply return the package within 30 days and receive a full refund. Order it here.