By Kurt Kaeser on 2018-04-24 in News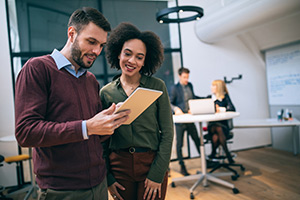 Kaeser & Blair's Promotional Products Distributors have the ability to determine their own success.
Are you nearing retirement and interested in earning extra income? As your kids are moving out and your schedule is opening up, it may be the perfect time to join the Kaeser & Blair family and become a promotional products distributor.
Nearly every business advertises with promotional products. The industry is growing and most companies recognize the value promotional products offer, such as creating goodwill and building brand awareness. As a promotional products distributor with Kaeser & Blair, you do not have inventory to purchase or maintain, no delivering products, no collecting money or credit hassles, no recruiting or line-up and no hosting parties. You just simply sell products in your free time.
If you are interested in starting your own business, Kaeser & Blair will provide you with the tools you need for success. Since 1894, K&B has supported potential business owners like you, by providing means to attract and secure business. Because each business owner has the freedom to be their own boss and the earning potential is near unlimited, job satisfaction as a promotional products distributor is high. It's your turn to start your journey with the freedom to do it your way.
Kaeser & Blair will take care of shipping, billing, collections, taxes, credit issues and product liability, so your sole responsibility is selling promotional products and your earning potential is up to you. A K&B promotional products distributor who works part-time can make up to $20,000 annually, while a full-time promotional products distributor can make up to $185,000 annually. You can devote as much time as you'd like to selling promotional products by being your own boss.
Our industry leading profits are not the only thing causing high satisfaction, Kaeser & Blair truly lets its business owners stay in control. Aside from choosing your own schedule and how much money you'd like to earn, you are not required to sign any binding contracts, can run your business your own way and can even work from home if that suits your interest.
If you'd like to become a part of the K&B family, you can purchase one of two packages. The Standard Business Owner Package ($85) includes everything you need to start selling promotional products. The Premium Business Owner Package (currently discounted from $335 to $299) includes the Standard Business Owner Package, as well as additional tools designed to increase the success of your business. Once you reach $1,500 in sales, your payment will be refunded to you. If you change your mind, you have the opportunity send back the kit within 30 days for a full refund. As you can see, becoming a promotional products distributor for Kaeser & Blair is simple, inexpensive and risk-free.
Not sure? Request our no-obligation FREE TRIAL LAUNCH PACKAGE today and compare it to other promotional products distributor opportunities. We can assure you you'll find Kaeser & Blair to be the best!