By Kurt Kaeser on 2018-05-08 in News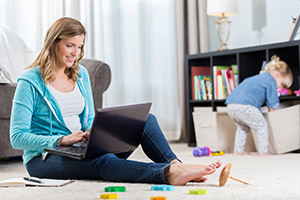 Kaeser & Blair offers the freedom, flexibility and profit potential that stay at home moms need
As a stay at home mom, taking care of your family is your number one priority. Keeping the finances in order is one of many things on your plate and providing food on the table and gas to drive the kids around can quickly add up. Kaeser & Blair offers jobs for stay at home moms that provide an opportunity like no other. With K&B, stay at home moms can earn an income to support their families without taking time away from their "mom duties."
Although your family needs may require you to stay at home, you have probably found yourself searching for a way to earn extra money to pay bills. Coming up with a solution that doesn't put your family in a difficult position can be tough. Fortunately, Kaeser & Blair's jobs for stay at home moms can make it easy for you.
The main reason Kaeser & Blair is so fitting for stay at home moms is because of the freedom and flexibility. You don't have to worry about finding and paying a babysitter or someone to take care of the dogs with K&B, as you can work whenever and wherever you want. You aren't required to leave the house and can even work throughout the night—whatever makes sense for you. Our jobs for stay at home moms give you the power to be your own boss. The amount you work is totally up to you, which also means your earning potential is up to you. With profit margins up to 65%, part-time business owners could make up to $20,000 per year and full-time business owners could make up to $185,000.
Since your family is relying on you, we understand that you need to work for a trustworthy company that is going to benefit you. Kaeser and Blair is a leader in the industry and has over a century of reliability and integrity, providing jobs for stay at home moms and making sure they are well supported. With an A+ Better Business Bureau rating, we have the largest group of independent businesses and will provide the best jobs for stay at home moms that you will find.
If you're interested in this unique opportunity, you can purchase the Standard Business Owner Program for only $85 today and get started. Additionally, once you reach your first $1,500 in sales, we'll refund your $85 investment and you can begin earning a generous profit.
Not ready to fully invest? Request our FREE TRIAL LAUNCH PACKAGE today and see what our jobs for stay at home moms can offer you!