By Kurt Kaeser on 2018-07-24 in News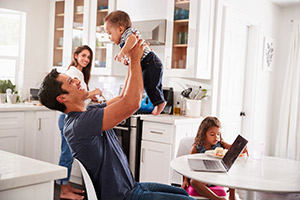 Kaeser & Blair's small business ideas are ideal to fit your lifestyle and to increase your family's budget
"Mom, I need new soccer cleats."
"Dad, I need money for the movies."
"I need a new cell phone."
"My field trip money is due."
"Can we eat out tonight?"

As a parent, you can probably relate to similar requests from your children. You may also be aware that these every day expenses can quickly add up, draining your wallet and keeping you from doing the things you want.
Raising children, providing them with what they want/need and bringing a practical sense to your family can be a challenge, but Kaeser & Blair has a solution that may suit you. It's time to start thinking about small business ideas and the opportunities they will provide to you and your family.
Kaeser & Blair's small business ideas offer the freedom and flexibility you've been searching for. Since you are not required to sign any binding contracts or make any restrictive agreements, you finally have a chance to be your own boss.
With K&B's small business ideas, you can make your own schedule and determine where you want to work; the flexibility is like no other. If you want to keep your current job and sell promotional products with Kaeser & Blair in your free time, you can. Other small business ideas may not allow you to do so.
Taking advantage of K&B's small business ideas is a great opportunity to work on your terms, not to mention the fact that it is so simple. All you have to do is purchase our Standard Business Owner Package for only $85, and you will be provided with everything you need to succeed in selling promotional products, including immediate access to online training programs. This will allow you to quickly begin using our small business ideas as a launch for a new lifestyle.
Selling promotional products is one of the best small business ideas, as it is an easy way to capitalize on the high demand. If you take a moment to think about all of the promotional items you own, or have seen, you will realize how prominent those t-shirts, ink pens and keychains with brand logos on them really are.
Because of the high demand of these products, you can expect great profits when selling them. Average profits are at 20% of the sell price and average orders are nearly $785. With our home business ideas, you have the potential to earn as much as $185,000 a year if you decide to work full-time, or up to $20,000 a year if you stick to part-time; essentially, your earning potential is up to you. Our industry leading profits are sure to help you gain financial security for your family and may even allow you to expand your purchases.
If Kaeser & Blair's small business ideas interest you, request our FREE TRIAL LAUNCH PACKAGE to get an idea of what we have to offer. Or, if you're ready to begin, order our Standard Business Owner Package and start increasing your income immediately.