By Kurt Kaeser on 2018-10-16 in News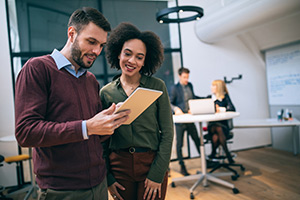 Become A Promotional Products Distributor With Kaeser & Blair To Take Charge Of Your Career
Are you tired of going to the same boring desk job day in and day out? Do you feel a need to be your own boss and take charge of your career, working when you want? By becoming a promotional products distributor with Kaeser & Blair, you can be in full control of every aspect of your job and say goodbye to the monotony of a typical career.
Almost every business, be it large or small, advertises with promotional products. If you look around your home, you'll probably find a pen, magnet, or t-shirt with a business's logo printed clearly on it. As the industry grows, more and more companies are recognizing the value of advertising with these products. However, they have to get them from somewhere. That's where you come in: by becoming a promotional products distributor, you sell the companies the products they want and make money for doing it.
If you're feeling skeptical, take a look at the promotional products industry as a whole. It recently hit $21.5 billion in sales and is only expected to continue growing. This expanding industry has plenty of room for you to get involved, and Kaeser & Blair wants to help you do that. We've been in business since 1894, and over the years we've learned the best ways to make the growing industry work for us, as well as provide others with a path to do the same.
As a promotional products distributor with Kaeser & Blair, you could make as much as $20,000 per year if you keep your business part-time. An extra $20,000 in the bank could help pay off student loans, or even get you a step closer towards complete financial independence. Should you choose to become a promotional products distributor full-time, you could make up to $180,000 per year! However, we don't put a limit on how much you can make. The earning potential is unlimited!
Not only do you have an unlimited earning potential, as a business owner with Kaeser & Blair you will have complete control over your schedule. You get to choose when, where, and how often you work. If you choose to make being a promotional products distributor your part-time job, you won't have to worry about it conflicting with any of your obligations. This is almost unheard of with other businesses, but we believe in giving people control and allowing them to thrive in the environment of their choosing.
Kaeser & Blair will provide you with all of the necessary tools you need for success. The first step is purchasing the Standard Business Owner package for one low price of $85. Within this package, you'll find everything you need to get your business up and running. One of the things you'll find is the Best Buys catalogue, which lays out exactly which products sell best so you don't have to spend time figuring that out. What's more, once you hit your first $1,500 in sales, your $85 investment will be refunded to you. Should you decide that being a promotional products distributor isn't for you within the first 30 days, your $85 will be refunded to you, no questions asked. This opportunity is virtually risk-free!
If you still aren't convinced, request our FREE TRIAL LAUNCH PACKAGE and see for yourself. By requesting this package, you have a risk-free way to know what to expect and what you're getting involved with. We know you'll want to become a promotional products distributor!