By Kurt Kaeser on 2018-10-23 in News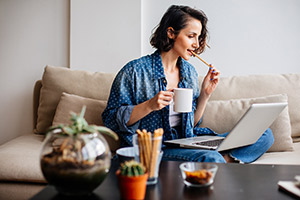 Make A Profit From Home With Kaeser & Blair's Home Business Ideas
Are you at the point in your life where you want to spend more time at home with your family? If you're working long hours away from the people you love, it may be time to look into Kaeser and Blair's home business ideas. By becoming a business owner, you could have control over when and where you work, leaving all the time you want to be with your family.
The struggle between growing your finances and spending time with your family has been going on for a long time. It always seems like in order to become more financially secure, you have to spend more time at work and away from the people you do it for. However, this doesn't have to be the case. By becoming a business owner with Kaeser & Blair, you could be taking advantage of what our home business ideas have to offer.
Kaeser & Blair was founded in 1894, and we have made our name selling promotional products. Now, we want to help you do the same. Promotional products are used by almost every business to help promote their services. In fact, if you look around your house, we think you'll find at least one or two items that fall under this category. Pens, t-shirts, lunch boxes, etc. are all used to help get a company's name out there. All of these products have to be sold by someone, and you could be that someone! With Kaeser & Blair's home business ideas, you could run your own promotional products business from the comfort of your own home.
The promotional products industry recently hit $21.5 billion in sales and is expected to continue growing for years to come. Making the most of this expanding industry is what we want to help you do with our home business ideas. If you choose to make selling promotional products your part-time job, you could make as much as $20,000 per year. However, if you decide you love selling and want to make it your full-time job, you could make as much as $180,000 per year! There is no commission cap, therefore making the earning potential unlimited.
An added bonus our home business ideas is that you have complete control over everything about your business. A lot of direct selling companies place restrictions on what you can and can't do, but we believe in allowing you complete and total control over every aspect. This includes when, where, and how often you work. If you choose to save working on your business for the weekends, or do a bit of work every day, we support you 100%.
If you're interested in getting started with our home business ideas, order the Standard Business Owner Package for the one-time low price of $85 and begin selling immediately. In this package, you'll find everything you need to start your home business ideas. This includes our Best Buys Catalogue, which lays out exactly which products sell best. This offer is virtually risk-free! After you make your first $1,500 in sales, your initial investment will be returned to you as a reward for doing so well in the business. Should you decide that direct sales isn't for you, we'll gladly refund you your $85 within the first 30 days.
However, if you think you want to go all-in with our home business ideas, you can order the Premium Business Owner Package. At $299, this package comes with all of the business essentials as the Standard Package, plus other items to give your business an edge. With the Premium Package, you get a personalized website as well as a business email to ensure that you stand out to potential clients.
If you aren't entirely convinced yet, order the FREE TRIAL LAUNCH PACKAGE for a 100% risk-free way to test out what we have to offer. We're confident that you'll love our home business ideas!