By Kurt Kaeser on 2018-11-06 in News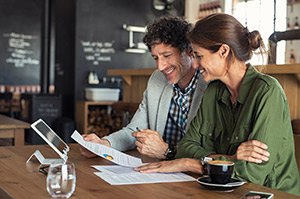 Begin The Flexible Career You Desire By Getting Involved In Kaeser & Blair's Direct Selling Program
Being a young woman with children has many challenges. Motherhood is a fantastic experience many women are drawn to, but it doesn't come without bumps and bruises along the way. With all the stress that raising a child can bring, worrying about the obligations of a job is not one you should have to juggle. With a direct selling career with Kaeser & Blair, you won't have to feel like work and home have to be such a difficult balancing act.
For some, "direct selling" can seem like a dirty word. You probably know someone who runs their own direct selling business in makeup or nutritional supplements, and most of the time they end up enjoying it. However, many direct sales companies have you sign a contract with stipulations such as how much you have to sell per month or sharing your contact list. Kaeser & Blair doesn't make you sign any contracts or share your clients. In fact, we believe in giving you complete control over when, where, and how much you sell. In between taking the kids to the doctor's office and putting them down for naps, you could be making some extra money to put towards your financial stability.
Kaeser & Blair is a promotional products distribution company that wants to help you achieve your personal and professional goals. We were founded in 1894, and with over 100 years in the industry, we know exactly what will work for you to get your business started off right. The promotional products industry is quickly expanding, and direct selling is the quickest and most effective way to get involved!
As a part-time business owner, you could be making up to $20,000 per year while easily maintaining another job or keeping up with responsibilities at home. An extra $20,000 could easily help pay for a much-needed vacation, or simply boost your savings! If you find that direct selling is working for you, you could become a full-time business owner and make up to $180,000 per year! The best part about this deal is that we don't cap your commission, so the earning potential is endless. The harder you work, the more money you make!
If direct selling sounds like something you'd be interested in, order our Standard Business Owner Package for a one-time low fee of $85 and immediately begin selling! This package comes with everything you need to get started, including the Best Buys catalog. This catalog lays out a wide variety of exactly which products sell the best, taking the guessing work out of your business. Not only is the initial investment lower than almost all other direct selling companies, it is risk-free. If you decide within the first 30 days that direct selling isn't for you, your $85 will be refunded to you.
Still not convinced? Order our FREE TRIAL LAUNCH PACKAGE and get a taste of how successful you could be.
Whether you're a stay-at-home mom looking to contribute to the bills, or already working part-time to support your family, starting a direct selling business with Kaeser & Blair is guaranteed to bring you success without taking time away from your family. Become a business owner with Kaeser & Blair and start making money today!