By Kurt Kaeser on 2019-04-16 in News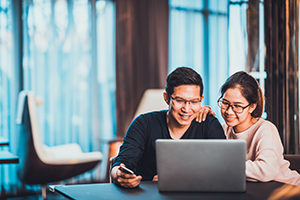 Kaeser & Blair Has the Best Business to Start for Those Who Need A Little Extra Cash
What is the best business to start that can be run from your home and still make a profit? You may be wanting to spend more time with your kids, but work obligations are pulling you away from the family you provide for. Or, maybe you just want to change career paths and have control over your work. Either way, the Kaeser & Blair business owner program is the best business to start that offers the flexibility you want and the income you need.
Kaeser & Blair is a promotional products distribution company that has been in business for over 100 years. In those 100 years, we have learned that the best business to start is one that you have complete control over. That means control over your schedule, who you sell to, and how you run your business. We are committed to helping people just like you succeed in their career goals. By selling promotional products to the local businesses where you live, you can become successful without having to sacrifice time with your family.
You may be asking: are promotional products even worth selling? The answer is, quite simply, yes! The promotional products industry recently hit a high of $23.3 billion in sales and is expected to continue growing in the coming years. You probably even have some promotional products around your house or workplace right now: a pen, a notepad, or even a calendar is probably somewhere close to you. Those products came from somewhere, and you have the opportunity to be that "somewhere!"
The next question you may have is how much you'll be making. This can't really be the best business to start if you won't be making any money. Well, the amount of time you put into your new business directly relates to how much you make. Part-time business owners can make anywhere from $7,000-$20,000 per year and can easily be worked around another full-time job or any other obligations you may have. Full-time business owners can make up to $180,000 per year! The earnings don't stop there. We don't have a commission cap for our business owners, so you can make as much money as you want!
Are you convinced that the Kaeser & Blair business owner program is the best business to start? Simply order the Standard Business Owner Package and start earning today! This package comes with everything you need to start your own successful business, including access to hours of online training materials and an array of product samples. We'll help you every step of the way!
Still not ready to take the plunge? Order the FREE TRIAL LAUNCH PACKAGE and see why Kaeser & Blair is the best business to start today!