By Kurt Kaeser on 2019-03-19 in News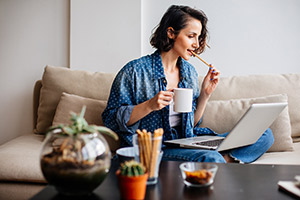 Work From Home With Kaeser & Blair's Home Business Ideas
Have you ever wanted to work from home, but not known where to start? Home business ideas sound like a dream come true, but many don't get the amount of support or guidance they need to find success. If you've ever wanted to work from home, Kaeser & Blair is the company for you.
What is Kaeser & Blair, and what do you do?
We are a promotional products distribution company that utilizes direct sales techniques to allow people to become business owners. By owning your own promotional products business, you get to turn your home business ideas into a reality. We are a family owned-and-operated business with over 100 years of experience, and you won't find another opportunity with as much credibility and experience as Kaeser & Blair.
Can I really sell promotional products in today's economy?
Yes! The promotional products industry recently hit an all-time high of $23.3 billion in sales and is only expected to continue growing. Almost every business uses promotional products as part of their advertising; in fact, if you look around right now, we're sure you'll find something with a business' logo printed on it. Kaeser & Blair is the perfect company to partner with when thinking about your home business ideas because we don't require our business owners to keep large inventories in your home. Keep your home clutter-free while still making a profit!
How do I know my home business ideas won't be a waste of time and energy?
At Kaeser & Blair, we know the value of your time and energy. You don't have to worry about wasting either with our home business ideas. Once you purchase the Standard Business Owner Package for a low fee of $85, you'll be equipped with all of the tools and sales material you need to turn your home business ideas into reality. Along with the sales material, you'll be given access to Kaeser University, our online training portal complete with seminars and exercises to help you feel ready to sell.
How much will I make?
You have the option to make your home business ideas a part-time or full-time endeavor. Part-time business owners make anywhere from $7,000-$20,000 annually, and since you set your own schedule you can easily work around another full-time job. Business owners who choose to make their promotional products business their full-time career can make up to $180,000! However, the amount you make is entirely dependent on how much you work. Since we don't impose a commission cap, you could make as much as you want!
I'm still not sure.
If you're still unsure as to whether or not you want to become a Kaeser & Blair business owner, here are some facts to help you decide:
We are risk-free! If you find that direct selling isn't for you, simply return your package within the first 30 days and receive your $85 back. If you do decide to keep going, we'll refund your $85 once you hit your first $1,500 in sales!
We don't make you sign any restrictive contracts. If you want to be a Kaeser & Blair business owner and find another good opportunity with another direct selling company, we won't make you choose between the two. While we would like to be your only source of promotional products, you have full control over how you run your business.
We have a FREE TRIAL LAUNCH PACKAGE! If you want to be absolutely sure that this is the right choice for you, simply click the link above and order the free trial today to see how much you could be making.