By Kurt Kaeser on 2019-05-07 in News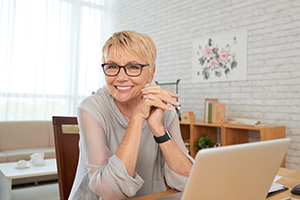 Kaeser & Blair's At Home Business Are Perfect for Stay at Home Moms
Have you ever thought about at home business opportunities, but not known where to look? You're in luck! Kaeser & Blair has at home business opportunities for the stay at home mom looking to contribute even more than she already does to her family.
What is Kaeser & Blair? We are a family-owned-and-operated promotional products distribution company that has been in business for over 100 years. In that time, we have accumulated all of the skills and practices necessary to succeed in our industry – and we want to share them with you! Not only do we have over a century of experience, but we also have secure relationships with suppliers and vendors that you get access to! Other at home business opportunities force you to build up your own relationships and figure things out for yourself. With Kaeser & Blair, we've done the hard work for you!
Have you ever wondered how important promotional products are to the successful advertising of a business? We're confident that if you look around you, you'll find some sort of promotional product. This can be anything from a pen to a lanyard to a t-shirt; anything that has a company's logo on it can be considered a promotional product. The companies that utilize promotional products need someone with the knowledge and the ability to recommend the right products and sell them. That's where you come in! With our at home business opportunities, you can sell promotional products all from the comfort of your own home.
To get started, simply order the Standard Business Owner Package. This package, priced at only $85, contains all you need for your at home business opportunities. You get access to hours of online training materials, information on how to submit orders, and an array of product samples to take with you on business meetings.
With our at home business opportunities, you're in charge of absolutely everything about your business: when you work, who you sell to, and how you gain new clients. There is absolutely nothing that you don't have control over! You can also choose whether or not you want to make this a part-time job to make some extra money for your family or turn this into a full-time career. Work has never been more flexible!
If you're still not sure, let us lay out some numbers for you:
Part-time business owners make anywhere from $7,000-$20,000 per year.
Full-time business owners can make up to $180,000 per year.
NO commission cap. Make as much as you want!
Risk-free. If you're not satisfied in 30 days, get your money back! Or, reach your first $1,500 in sales and receive your $85 back as a reward.

If you want to be 100% sure that our at home business opportunities are for you, order the FREE TRAIL LAUNCH KIT today!