By Kurt Kaeser on 2019-05-29 in News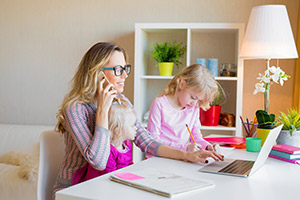 Stay-at-home moms already have a full-time job caring for their little one(s). Many women put their entire career on hold to ensure their children are well cared for and nurtured. However, in between the naps, meal prep, and never-ending laundry, some look for a part-time job they can do from the comfort of their own homes. If you're a stay-at-home mom interested in starting your own business, keep reading!
If you're a busy mom starting your own business, here are 10 things to consider before making the plunge:
Understand your strengths. Are you naturally good at talking to people? Do you have a knack for sales? Or do you prefer something a little more slow-paced? Once you know what you like, don't like, and are good at, you'll be in a better position to set yourself up for success.
Do your research. Make sure you know what kind of company you're getting involved with before signing up. Do they have the flexibility you require? Are there contacts involved?
Know what problem you want to solve. Every business was started because the founder saw a need for something that wasn't there. What product needs to be created? What group of people need your services?
Know how much it will cost. Starting your own business can be expensive. Figure out how much it will cost to start making money: website fees, paying for products you're later going to sell, etc.
Tell people about your business. Tell everyone you know that you're starting your own business. They're most likely to be your first customers!
Don't procrastinate. As a mother, you're already being pulled in lots of different directions. However, the more time you spend telling yourself, "I'll do it tomorrow when I'm less busy," the less likely you are to start.
Learn from others. You can find hundreds of women just like you who started their own business while being a stay-at-home mother. Search online for people doing what you want to do and reach out to them. They will be a great resource for you.
Write everything down. Having your business planned out in your head is good but putting it down on paper will help you find holes in your plan or problems you may not have seen before. If you have a great idea, write it down!
Be professional from the beginning. Some people might not support you from the get-go, but that's okay. By being professional with them from the beginning, they'll come around to seeing that you're serious about your new business.
Look to the future. Where do you see your business going? Is this a temporary gig, or do you want to grow larger once you have the time and funding? Try to set goals for yourself for a few weeks, months, and even years in the future.
Are you ready to start your own business? Learn more about Kaeser & Blair's jobs for stay at home moms, and become your own business owner today!