By Kurt Kaeser on 2019-09-17 in News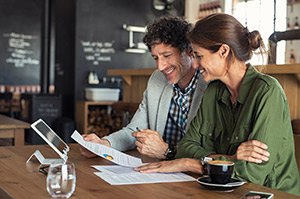 Have A Successful Direct Selling Career with Kaeser & Blair
Did you know: direct selling represents $35.4 billion in retail sales in the United States? It's true! This successful form of selling often attracts people from all walks of life due to the high success rate. But what does it take to be successful? And how do you know what to sell in the first place? Luckily, Kaeser & Blair is here to answer both of those questions!
As a direct selling expert, Kaeser & Blair has been helping people reach their unique sales goals for over 100 years. We know the best business tactics to use, and each of our business owners are given the tools they need to succeed.
What Should I Sell?
When deciding what to sell, we suggest looking at the success of various industries as well as your own personal expertise. The best direct selling company to work for is one in a successful industry that you're either interested in or have worked in before. For example, the promotional products industry is worth about $24 billion, and has steadily grown for the past decade. Every business uses promotional products, so it's a stable industry to go into. If you have sales experience, promotional products may be the way to go!
How Can I Be Successful?
Success comes only after hard work. With a direct selling career with Kaeser & Blair, we've done most of that hard work for you. Starting from scratch means finding vendors, figuring out how much to charge for your goods or services, and learning as much as you can about your industry. Kaeser & Blair has put everything you need to know about direct selling into Kaeser University, your one-stop shop for all things promotional products. We give you access to hundreds of vendor relationships, a support system of fellow business owners, and a name that has gained the respect of many for over 100 years. You'll never have to worry about your business!
If you'd like to give Kaeser & Blair a try, simply purchase our Standard Business Owner Package for $85 and get started today! Still not sure? Not a problem! We offer a FREE TRIAL LAUNCH KIT for you to see exactly what you get when you become a business owner. Start direct selling with Kaeser & Blair today!